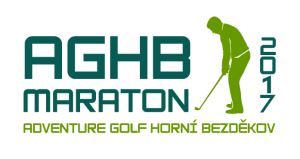 opening ceremony, referee's speech
the time schedule may change according to the number of players


KARL LAKOS

POLIZEI SV STEYR
PATRICK RIENER

1. MGC VÖSENDORF
ALFRÉD SCHMIESTER

RODINKA RESORT OŠČADNICA
JÁN DRDÚL

RODINKA RESORT OŠČADNICA
RIZA THACI

MINIGOLF CLUB DARDANA
AGIM KEKA

MINIGOLF CLUB DARDANA







ZDENĚK PROCHÁZKA

AGHB TEAM


VOJTĚCH MIKŠOVSKÝ

AGHB TEAM



PAVLÍNA ŠUSTROVÁ

AGHB TEAM

DATE AND PLACE OF THE CZECH MASTERS
registration deadline untill 22.7. 2017 (all players)
NUMBER OF ROUNDS
Number of rounds is not given definitely, all players play continuously 12 hours (after each 3 rounds - 15 minutes break). The last round will be announced before its start.
PARTICIPATION FEE
ADULT (19 years and older) - 18 €
JUNIOR (13-18 years) - 9 €
For the categories is valid the age at the day of beginning the AGHB MARATON (29.7.2017)
CATEGORIES
AGHB MARATON WINNER (best 3 players)
Maximum 72 players can register to the tournament.
ALLOWED BALLS AND PUTTERS
All balls aproved by WMF are allowed.
Golf and minigolf putters are allowed.
PRACTICE
Practice from Monday 24.7. to Friday 28.7. (public allowed on the course)
Practice fee:
Monday 24.7. to Thursday 27.7. - 4 € / day
Friday 28.7. - FREE
TRANSPORT
The course is only 15 minutes by car from the Prague Airport. For the international players we offer free transport (airport - hotel and back).
Parking is free in the area.
ACCOMODATION
For the players is following accommodation recommended:
(Contact us if you need help with reservation)
GOLF AREA BOTANIKA
Horní Bezděkov 154
www.arealbotanika.cz
E-mail: areal.botanika@vysehrad2000.cz
Tel: +420 604 938 525
This hotel is only 500m from our course. The hotel includes a restaurant.
SPORT HOTEL SLETIŠTĚ
Sportovců 818, Kladno
www.sporthotelsletiste.cz
E-mail: recepce@sporthotelsletiste.cz
Tel: +420 702 176 453
This new and very nice hotel is situated in the town of Kladno. It is appr. 7km from our course. The hotel includes a restaurant.
WINNERS OF THE AGHB MARATON